Babyliss has designed a new Babyliss curl 2 secret device which is designed perfectly for creating perfect curls with every single use. And now, experimenting with different parameters to obtain the desired results is simple.
But What are the pros and cons of the Babyliss curl 2 Secret?  And How do you use Babyliss curl secret 2? And How much is Babyliss curl secret? Is it safe to use? all these questions might be running through your head right now. But don't worry we are here at Babylissipro to help and guide you and let you know if this device is the best curler for you or you should start looking for another one.
Babyliss Curl 2 Secret 2667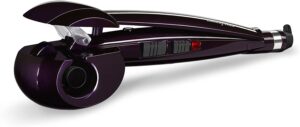 Buy From Amazon Uk
BaByliss Boucleur Automatique Curl Secret C1500E
BaByliss Paris Curl Secret Ionic 2
Is Babyliss Curl 2 Secret for me?
In the beginning, you need to know a few stuff about Babyliss curl 2. First of all, this appliance is not intended for use on very long hair and should not be used on hair shorter than the level of shoulders. Secondly, this appliance reaches high temperatures and should not be used on synthetic or natural hair extensions. However, if the rules up don't apply to you then we can surely say that Babyliss curl 2 secret is a safe choice for all women with different hair types and lengths and natural colours.
What are the pros and cons of the Babyliss Curl 2 secret?
Well as with any appliance it comes with its good things and bad things. Let's see what are the good and bad stuff on Babyliss curl 2 secret
Pros
Every time, the appliance's revolutionary auto curling technology produces a flawless curl giving you the gorgeous hair look you are looking for.
Hair is pulled gently into the ceramic curl chamber, where it is held lightly and gradually heated from all directions to produce a curl.
The styler mechanically switches the curl direction each time a piece of hair is pulled into the chamber for stunning, natural-looking curls.
Simple and easy to use it's not a complicated appliance to use it's totally straightforward.
Cons
Doesn't work very well for very long hair and very short hair.
In very rare cases hair might get stuck so you need to be careful while using it.
What are The Features of Babyliss Curl 2 Secret 2667?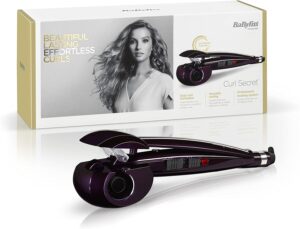 Babyliss Curl 2 secret comes with a handful of features including:
Auto Curl technology
Professional heating system for fast curl formation
2 heat settings of 210°C and 230°C for all hair types. Use the lowest heat settings if you have fragile, fine, thin, or coloured hair. For thicker hair, use the higher heat settings.
Use the higher heat settings for thicker hair.

3

timer settings with audio beep indicator for different curl effects
The Setting 8 (8 seconds = 3 beeps) – for loose waves
Setting 10 (10 seconds = 4 beeps) – for soft curls
Setting 12 (12 seconds = 5 beeps) – for more defined curls
Automatic curl direction for natural-looking curls
Ceramic curl chamber for a smooth finish
Ionic frizz-control
Heat ready indicator
Auto shut off safety feature
2.5m swivel cord
Heat protection mat
Storage pouch
Check other models:
How to use Babyliss curl 2 Secret?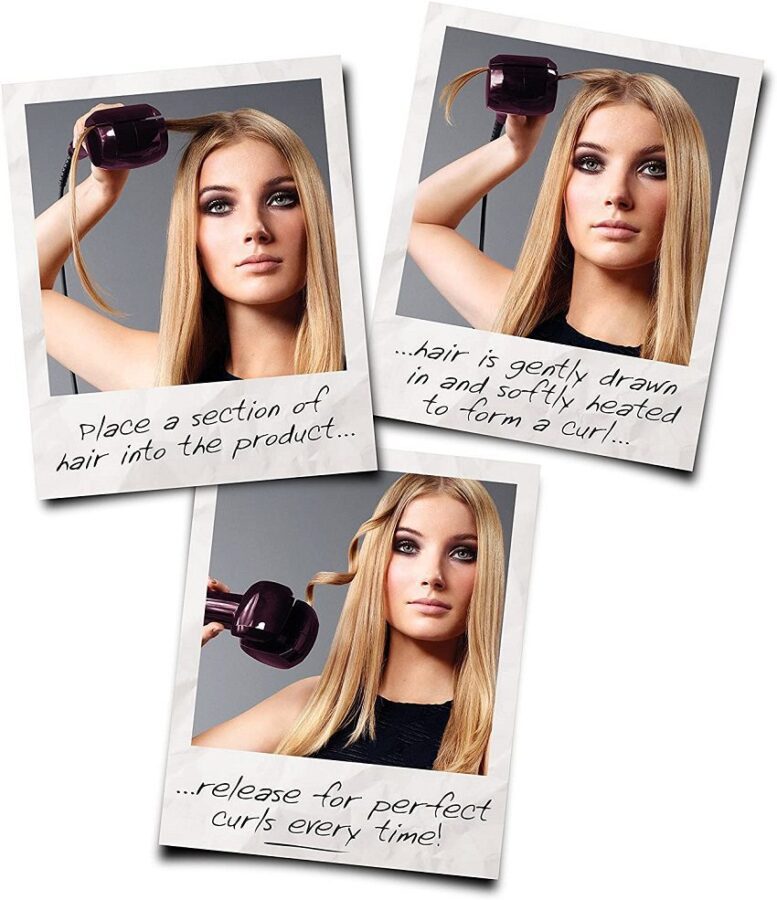 First of all, you need to make sure that the hair is clean, dry, and free of all style products such as dry shampoo, hairspray, mousse, spray wax, styling dust, and styling powder. Comb through the hair to eliminate knots and split it into pieces no more than 3cm wide.
To use the device, move the switch to the appropriate heat setting for your hair type.
Always place the hair into the curling iron with the open section of the curl chamber towards the head. Insert the hair into the appliance deeper down the section for longer-length hair to ensure that it is pulled into the curl chamber properly.
In some cases, if the appliance is used in the wrong way, a small tangle may form. If a tangle occurs, switch the appliance off and stop pushing the appliance away from the hair.
Gently pull the hair out of the curl chamber until it is completely free.
Don't forget to firmly close the handles together to allow the hair to be dragged into the curl chamber. Hold the appliance in place and the appliance will begin beeping after the hair has been brought into the curl chamber. Continue to keep the handles locked until the appliance emits four rapid beeps in a row, indicating that the time is up.
If the styler is not removed from the hair after four rapid beeps, it will continue to beep and the red power indicator will blink until the handles are removed. Remove the appliance from the hair and use it, as usual, to continue using it. Fully release the handles and move the appliance away from the head to expose the curl.
Do not comb or brush the hair until it has cooled to enable the curl to set. Repeat around the head until you get the appropriate number of curls. After using the appliance, turn it off and disconnect it.
Read more: How to Use Babyliss Automatic Curler
Babyliss Curl Secret for Short Hair
Babyliss curl secret can be used on short hair easily. this video shows how to use it properly to make your short hair curly:
Conclusion
After reading this full review on Babyliss Curl 2 Secret you will be able to determine how suitable this appliance will be for your hair. To sum up, It works perfectly for a lot of hair types and it has a reasonable price that everyone can afford. And don't forget to follow the instructions as this will help you avoid the unnecessary complications of using the device. Please share with us your experience with the device and whether you like it or not.
Check Also:
Hello! This is Dr Esraa Sheta, Beauty Editor and SEO Expert. I have been creating product reviews for over 7 years now. All the product reviews for Babyliss appliances are unbiased. I carefully select the products and rigorously test them to ensure that the reviews are truthful and beneficial to customers. I'm confident that you will discover numerous tips and tricks to help you maintain your hair's silky smoothness and shine like never before!