Top-rated BaByliss for men beard trimmer: latest models from BaByliss for men collection, the differences between them and how to choose the right beard trimmer for you. 
Best BaByliss for Men Beard Trimmer

   
1. BaByliss for Men Super Stubble XTP Beard Trimmer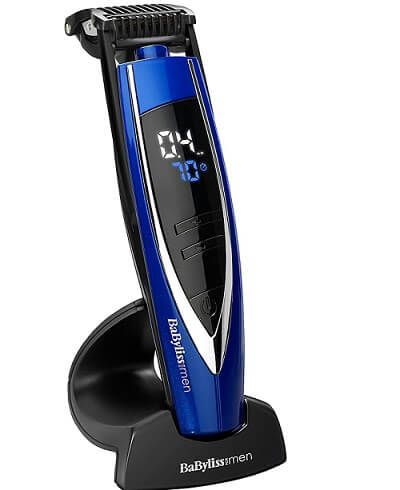 Free Shipping 
The BaByliss for men beard trimmer XTP is 100% waterproof and can be cleaned easily under running water or used in the shower. The power charging system is super fast. It completely charges in 80 minutes and extended 70-minute cutting power for cordless use. It also has a memory function that records your last trim, so you can easily use your favourite beard style after letting your look run wild 
Pros 
Great Beard Trimmer for ultra-precise stubble and short beards.

Charges completely in 80 minutes 

70 minutes use 

Precise Motorised Control (0.4mm – 5mm)

Precise Edging & Shaping for a personalized experience

Wet & Dry Use 

100% waterproof 
What is Included?
The BaByliss for Men Super Clipper XTP

1 x Shaver Plug Adaptor

3 Pin Plug Adaptor

1 x Shaver Lead

1 x Charging Stand

A cleaning Brush

User Manual 
2. BaByliss for Men i-Stubble 3 Beard Trimmer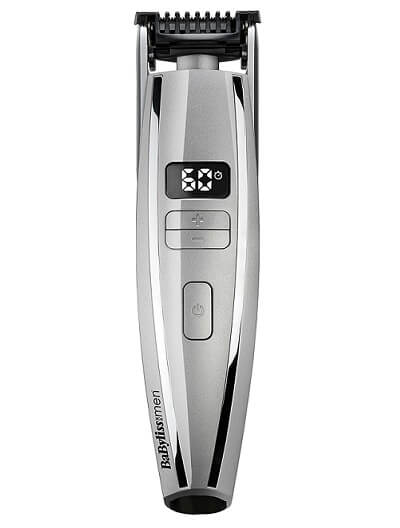 Free Shipping 
The BaByliss for Men i-Stubble 3 Beard Trimmer works cordless which gives you outstanding performance. The flexing head will track the curves of your chin for a super precise and relaxing trimming experience. Moreover, the LCD screen highlights the selected length setting. You can choose from 0.4mm to 5mm as it has 15 motorised lengths. 
Pros 
Charges completely in 90 minutes 

60 minutes run time 

Precise Motorised lengths (0.4mm – 5mm)

Precision stubble & short beard

Dry Shaving  

Removable and washable blade

The LCD screen displays the charging time remaining and the cutting length selected 
What is Included?
1 x i-Stubble3 Trimmer,

 Cleaning brush

Oil for maintenance 

Pin shaver plug

 Pin plug adaptor

User manual
3. BaByliss 7235U 10-in-1 Grooming System for Men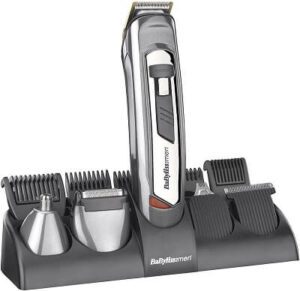 Free Shipping 
The BaByliss 10-in-1 multipurpose grooming system comes with a precision trimmer, Nose trimmer, Detail trimmer, Foil shaver and Wide Trimmer which is a great set of hair cutting appliances. It is very easy to use and the battery lasts for enough time. It also comes with maintenance oil to periodically lubricate the trimming head when needed. Now you can use 7235U 10-in-1 for the face and body which saves a lot of space in your bathroom. You can store the BaByliss trimmer attachments in the charging and storage unit that comes with the appliance. 
Pros 
Foil shaver for smooth results 

Face and Body Trimmer

A full charge will provide 30 minutes of use

Titanium blades

10-in-1 Grooming System for Men

Skin-friendly blades for safe and gentle beard trimming
Cons
What is Included? 
BaByliss 7235UTrimmer

5 Interchangeable heads

2 Comb guides

3 Jawline blending combs

A Cleaning Brush

A Moustache comb

One Lubricating oil

The charging & storage unit
4. BaByliss For Men Pro Beard Trimmer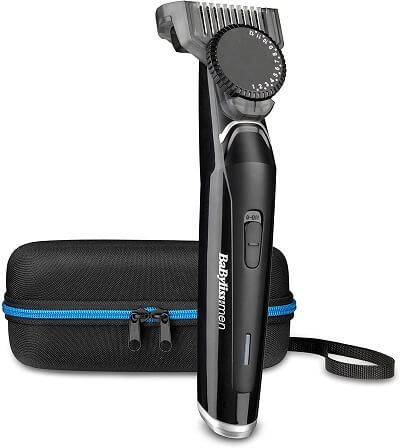 Free Shipping 
BaByliss for men Pro Bread trimmer will help you maintain and shape all-length beards and stubble. This is the most perfect trimmer for first beard grooming. It is an amazing beard trimmer for achieving the structure and length you always dreamed of. get the look you're after with no fuss. 
Pros 
Mains or cordless operation

Up to 60 minutes of cordless use 

 Charges full in 8 hours 

23 Cutting lengths for all beard types (0.5mm – 12mm)

A luxurious fabric travel case that keeps stores all the appliance accessories in one case 

3-year guarantee
What is Included? 
The BaByliss Pro Beard Trimmer

1 comb guide

1 cleaning brush

The lubricating oil

A charging adapter

The user manual 
5. BaByliss For Men Carbon Steel Face and Body Trimmer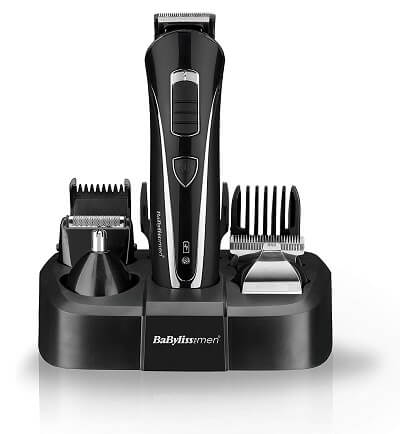 Free Shipping 
This BaByliss trimmer is multi-use for both face and body grooming. It has 5 interchangeable heads which are: Precision trimmer, body grooming head, Nose and Ear Trimming head, Detail trimmer Foil Shaver. It is amazing for all hair lengths and moreover, it has a nose hair trimmer included!
Pros 
Face and Body Trimmer

40 minutes of cordless power

Charges in only 8 hours

Removable and washable heads for easy cleaning
What is Included? 
1 x trimmer 

Five interchangeable heads Precision trimmer body groomer Nose and Ear Trimmer Detail trimmer Foil Shaver

3 x comb guides

A cleaning brush

A lubricating oil

The charging and storage unit 

The user manual 
How to Trim Your Beard Using a Beard Trimmer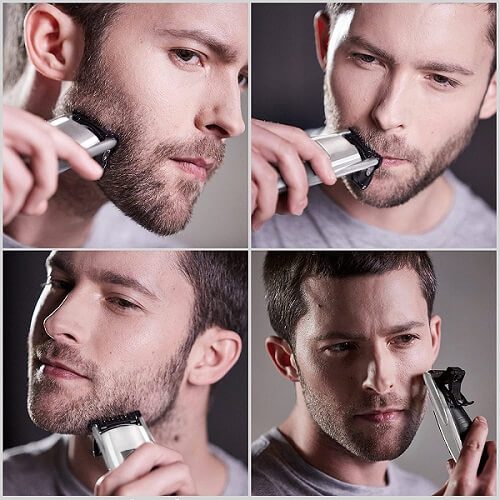 Trimming your beard at home is so easy. Follow these 4 steps: 
Prepare Your Skin 
Wash your facial hair and skin then use a towel to dry them. Run a beard brush through your facial hair and comb through in a downward direction. Make sure to detangle any knots before turning on the beard trimmer to get the desired beard length easily. It is very important to do this step right before using the appliance to get the most satisfying results. Some barbers recommend using a small amount of beard oil to facilitate brushing your beard and to help you lubricate the cutting blades. 
Choose The Desired Length.  
Choosing the length of trimming is a bit tricky especially if it is the first time you trim your own beard. As a general rule, you can take more hair off if you need to but you can't put the hair back on. 
For a starter, trim your beard using the longest cutting setting. Continue running the BaByliss trimmer over your chin, neck and cheeks. If you are not sure which trim length is best for you, you can gradually shorten your beard. continue this process until you've reached your sideburns. 
Shape Your Beard 
There is a universal rule for trimming the beard neckline, regardless of style: You need to draw a "U" from behind each ear, behind the jawbone, and down to a point on your neck. This point can be imagined by placing your pointer and middle fingers together, then laying them above your Adam's apple.
Clean-Up The Cheeks
Now you trim your beard according to the required length. It is time to clean up the neck hairs and to add touch-ups. You can use the precise beard trimmer to trim small hairs and create the final look. For many guys, shaping the beard in the wrong way is a nightmare. That's why using a personal trimmer is a good option to create perfect beard lines at home. You can use the BaByliss for men beard trimmer which has many attachments to help you cut your beard to the right length in no time! 
Check Also:
Conclusion
There is a wide variety of BaByliss for men products in the market. The best BaByliss for men bread trimmer according to customers and experts' reviews is BaByliss for Men Super Stubble XTP Beard Trimmer. It is great for both beginners and experts in beard trimming. Much better design than the BaByliss i-stubble+. It is lighter and easier to use compared to other models. Stay in control of your facial hair with the BaByliss XTP beard trimmer.