Babyliss Powerlight Pro Hair Clipper Review: features, what is included? pros and cons. Get the best Babyliss deals now. 
If you are looking for an efficient and easy-to-use hair clipper, I'm sure you will enjoy using this hair clipper. It has great value for money considering its price which is cheaper than £30! Let's discuss its features and ease of use. 
BaByliss PowerLight Pro Hair Clipper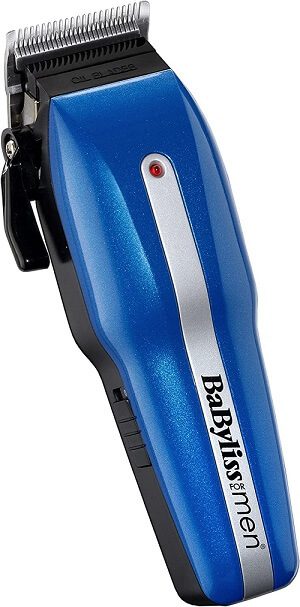 Free Fast Shipping 
Stainless Steel hair clipper 

45 Minutes

run time 

Advanced motor power for smooth fast cutting

Easy to cut your hair at home 

Has 8 clipper cutting guides

Works both corded and cordless 

Precision honed high-grade stainless steel blades for extreme sharpness and precision cutting
BaByliss for men PowerLight Pro Hair Clipper is made of stainless steel blades. It has excellent cutting performance through all hair types. As the hair clipper comes with 8 cutting guides I find it easy to use for effortless clipping. You can style your hair at the length you want in no time. Besides, it works corded and cordless for complete comfort during clipping at home. I find it faster to clip when the hair clipper is plugged in. but having the option to run the hair clipper on the battery is very useful during holidays. The Babyliss for men PowerLight Pro batter runs for 45 minutes and charges in 16 hours. 
What is included? 
1 x Cord/Cordless PowerLight Pro Clipper

8 clipper cutting guides, grades 1-8, for a variety of lengths

Barbers/moustache comb

A small cleaning brush

Oil

Luxury storage pouch.

Scissors
BaByliss PowerLight Pro Hair Clipper Reviews 
"Best clippers I've ever used. This clipper is so powerful and easy to use whether shaving hair, pubes or beard" Willian – The United Kingdom.
He found the hair clipper good and powerful. He has afro hair and it is easy to make light look using this clipper. "it. You could probably sheer a sheep with how powerful they are." he said. Besides, he is using it for shaving his beard too. It is fast and it takes only a minute to shave his beard using it. 
"Great hair cutter for the money." James – The United Kingdom 
This hair clipper has great value for money. I did the initial charge and it seems alright. I tried it twice. The batter is amazing and lasted for a whole haircut out. Initially, I did think at first that it had lost its charge as it seemed slow and as if it was pulling. Was about to go get the power lead when it just seemed to start working well. Maybe as the hair clipper is new it just needed a bit of running in. So far seems pretty good value for money. 
"Great hair cutter for the price." Mike – Germany
I kept searching for the best on-budget hair clipper to try clipping my hair at home due to the covid. I spotted this one and liked that it works corded and cordless. The delivery was on time and I managed to do a great job for the first time clipping at home. I liked that I can continue using the hair clipper even if the battery dies. It comes with a full complement of combs, oil, scissors and a pouch bag.
Other Helpful Babyliss for Men Products: 
FAQs 
Is it better to cut hair wet or dry with clippers?
It is better to cut hair dry to get the best results. It is very difficult to cut wet hair using hair clippers. If you decided to cut hair after a shower, you can dry it using a microfibre towel first. The towel will absorb the moisture and it will make it easier to make the style you want using the clippers. 
Is it OK to cut hair dry?
Yes. It is better to cut hair dry if you want to correct your hair length or create a new style. Even professional hair stylists think it is better to cut hair dry in the finish touch-ups. As it is better to know how the hair falls and make changes accordingly.
How loud is BaByliss PowerLight Pro Hair Clipper?
For me, it is ok. Not louder than the average clipper
Conclusion 
Babyliss Powerlight Pro is a great on-budget hair clipper. It works coded/cordless and the battery last for a whole hair-clipping session.  It is lightweight and easy to use for beginners. I think it is quiet compared to some clippers I have used previously which is nice. Pleased with reviewing it. The Babyliss Powerlight Pro hair clipper comes with lubricant, comb, and scissors and is all packed up with a luxury pouch to store it in.