Babyliss Super Clipper XPT features and pros. Is it good? How long does the battery last? And is it easy to use for hair cutting at home? 
As a style expert, I know a thing or two about looking and feeling your best. Cutting your own hair makes you feel confident. With only having 10 minutes, you can have the best grooming routines at home. That could free up 2-3 hours that could be spent doing other things instead of going to the barbershop and booking appointments. I think Babyliss XTP is a great choice for experts and beginners as it works cordless. It will provide you with the freedom you need to cut your own hair almost anywhere.
Babyliss Super Clipper XTP

Free Shipping 
Pros 
Works both corded and cordless 

Precise Japanese steel blades for smooth haircutting

fully charges in  2 hours only 

The battery lasts for 85 minutes of use

Grades 0:8 for a variety of different hair lengths and styles

Taper lever for making fine-cut adjustments

XTP Technology

makes the battery last longer than traditional hair clippers. 

taper lever for making fine-cut adjustments, ideal for blending and fading
Charging The Babyliss Super Clipper 
While charging the Babyliss Super Clipper, the blue LED will flash slowly and continuously until the battery of the appliance is fully charged. 

When the battery is fully charged, the LED blue light will stop flashing out and it will only light blue. 

The battery charges in 2 hours. We recommend plugging the device of the power cable after the recommended charging time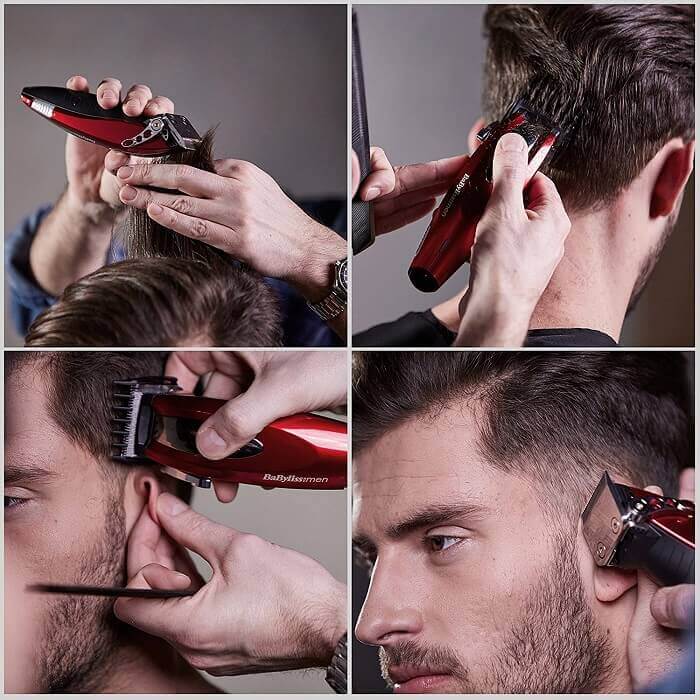 Are BaByliss hair clippers good?
Yes. I find Babyliss hair clippers very good and easy to use. They give a clean smooth cut without pulling the hair. The battery of Babyliss Super Clipper XTP lasts for a long period of time compared to other clippers on the market. Besides, the user manual is very easy to follow. 
How long does a BaByliss clipper last?
The Babyliss clipper lasts for 85 minutes. However, before using Babyliss Super Clipper XTP for the first time, you need to charge it for 2 hours. Charge the battery of the appliance to the full to avoid interruption during cutting your hair. Check Also Best Babyliss for Men Beard Trimmer about the top 5 Babyliss beard trimmers on the market.
Check other Babyliss for men models: 
Conclusion 
babyliss super Clipper xtp is excellent. It is a reliable set that cuts well. It works corded and cordless to allow you to cut your hair without worrying about the power supply. Babyliss SUper Clipper XTP has a taper lever for making fine-cut adjustments, ideal for blending and fading. The quality of the cutting and performance of the appliance has stayed high throughout multiple cuts. I really liked my new haircut using BaByliss for Men Super Clipper XTP Hair Clipper. 
Let me know in the comments below your opinion about this appliance. Have you tried it? And which hair clipper is your favourite one?