The BaByliss crew cut from Babyliss for men: is it easy to use? Get a fast efficient haircut at home using this amazing hair clipper. 
Are you thinking about getting your personal hair clipper? This new model of BaByliss is very easy to use. More than 2418 man has tried it and it has 4.5 out of 5 stars on Amazon UK. That's why I decided to give it a try. I will share with you my review of this versatile BaByliss Men's Battery-Powered Hair Trimmer and what customers say about it. 
BaByliss Crew Cut –

BaByliss

For Men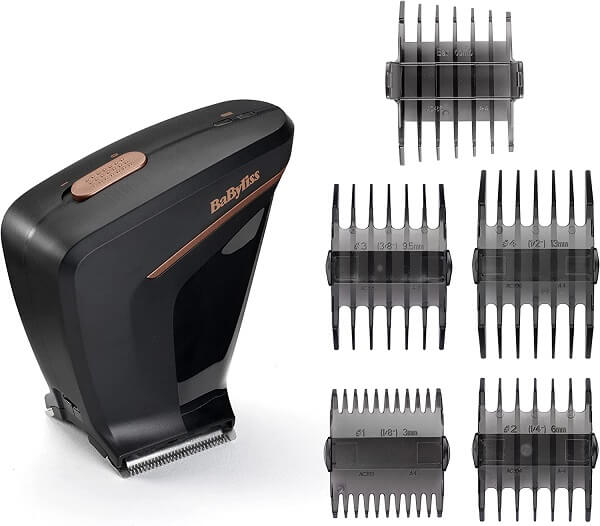 Twin blade cutting system for multi-directional self-hair cutting

Fast and easy-to-use air clipper 

Lithium-ion battery for powerful performance 

Works for 75 minutes and charges in 3 hours only 

Designed for personal use at home 

Cutting grades from 0 to 4 for all hairstyles
Cutting your own hair wouldn't be easier. I liked using the BaByliss Men The Crew cut. It is very powerful and I find it great for beginners. It has a twin blade cutting system that will help you cut your own hair in less than 1 minute. The twin blade cutting system allows you to move the hair clipper from the back of your head to the front and vis versa in no time. This help maintains a short even hair length all over your head. It has 5 grades for hair clipping from 0 to 4. 
Like any other lithium battery, to get the best performance, you should use it at least 3 times due to the memory battery. After that, it will deliver the best performance. 
Before Using

BaByliss

Men The Crew Cut 
The initial supercharge ensures optimum power performance to give a smooth fast cutting every time. BaByliss Men Crew Cut has a lithium-ion in mains battery that lasts for 75 minutes. If you are going to use it for the first time, you must charge the battery to full first. 

You don't have to charge the battery to full to use it though. You can just charge it for 30 minutes to get 1-hour usage for example.

Before charging, make sure that the BaByliss hair clipper is switched off.  Then insert the small plug into the adapter. Plug on the appliance. You will notice that the red charging indicator light will flash indicating that it is connected to the power correctly. 

When it is fully charged, the indicator light will remain on.

Check the cutting length guides below. To attach the comb guide, switch off the appliance first. Position the comb guide over the blades and slide the sides into the slots on either side of the blades until it clicks

For removing the comb, place your fingers on each side of the of the comb guide and gently pull down and away from the BaByliss Men hair clipper. 

If you noticed that the device is flashing while clipping, this means you only have 15% remaining and you should charge it.
| | |
| --- | --- |
| Grade | Cutting Length |
| Nu. 0 | 0.5mm |
| Nu. 1  | 3mm |
| Nu. 2  | 6mm |
| Nu. 3  | 9.5mm |
| Nu. 4  | 13mm |
Note: Before charging the BaByliss Men Crew Cut, make sure the power is 'OFF' unless it won't charge.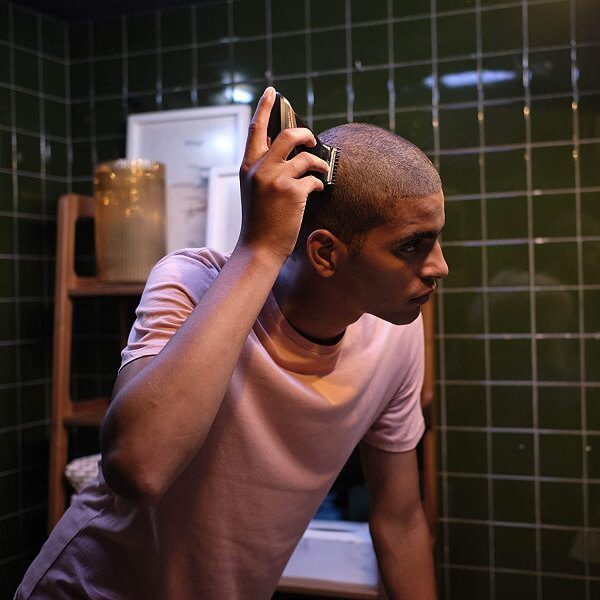 How to use

BaByliss

Crew Cut? 
 Attach the comb guide length of your choice

. The previous table shows the comb grades. 

Switch on the BaByliss hair clipper using the on/off sliding switch. You will find the button on the top of the hair clipper. 

The blades will start to move and the green LED will illuminate.

Start clipping your hair. It is recommended to start at the nape of your neck. Holp the BaByliss Crew Cut with the teeth of the clipper pointing upwards and the comb guide flat on your head. Slowly move the hair clipper upwards clipping your hair towards the front of your head. You can do that in a forward sweeping motion to get the best results. 

Once you reach the front of the head, engage the opposite blade in a backward sweeping motion. This way you will move from the front of your head, back to the nape of the neck.

Continue with this sweeping motion, running from the nape of the neck to the front of the head until you reach an even length all over

To tidy longer hairs around your ears and neckline, remove the comb guide and use the blad directly for neatening edges and shaping sideburns. 

If using on areas where there are folds of skin, ensure the skin you hold the skin taught prior to cutting hair in this area. 

For using the BaByliss hair clipper on the lowest setting, you don't have to use the comb guide. 
Note: BaByliss Men The Crew Cut is very easy to use. You only need to apply gentle pressure while clipping your hair. Never force the hair clipper, you noticed any resistance while clipper, lift it away from your hair and remove any stuck airs then continue your clipping session. 
What is Included? 
Rechargeable BaByliss Men Hair Clipper

5 grades comb guides

1 x cleaning brush

1 x oil

A charger 

A user manual 

Luxury storage pouch 
Other BaByliss for Men Helpful Products: 
BaByliss

Crew Cut Review 
"So Pleased I bought it! Highly recommended" Bobmac, the United Kingdom 
He used the BaByliss Super Crew Cut for 5 years and it became so blunt that he needed to replace it. He was not so sure about buying the new model of the crew cut. The old one was simple to use in a circular motion and it did a great job. He decided to give it a try. Before this review, he used the new model twice and noticed it does a far better job than the old model. The new BaByliss Crew Cut is quicker and more powerful to use. It also has long battery life. 
"Easy to use and it gives a good even cut." David – The United Kingdom 
Finally, a clipper that somebody has actually designed for quick and easy use. It has great value for money regarding its high quality. I find this hair clipper very easy to use and it gives a good all-over even cut. Works for me and I highly recommend it.
"This product cuts hair neatly" Pedro – The United Kingdom 
It is a bit tricky to hold due to its shape. However, once you get the hang of it you will use it for event cuts. I liked that it charges quickly and you get at least 20 minutes of run time. 
"The best baldness hair cutter" Josefka – Germany 
The bald razor is very powerful. I find it ergonomic and fits comfortably in my hand. I can pull it perfectly over my head without the comb guide. It creates a wonderful bald head. For clipping my hair, it took me only 2 minutes. I use it every 5 days. But I have to say two short coats: No cutting is possible with the power cord plugged in, and the cutter looks a little loud in my opinion.
Check Also Other BaByliss for Men Models : 
Conclusion 
BaByliss Crew Cut is a life changer. I liked that it comes with comb guides, oil, a user manual and a luxury pouch for storage. The lithium-ion battery is so fast. I'm sure it will give you a clean, neat cut at home! It has great value for money and It is highly recommended. 
Have you tried BaByliss Crew Cut? tell us your review of BaByliss Hair Clipper. If you have any questions, add a comment below and I will happily answer your inquiries.