Babyliss 3Q hair dryer pros, features including the latest Babyliss technologies, what is included? Plus best deals are available now at Babylissipro. 
Babyliss hair dryers have high quality and good value for money. The product we are reviewing today is a bit expensive, but it has basically everything you need to dry your hair peacefully at home. Let's get into its features: 
Babyliss 3Q Hair Dryer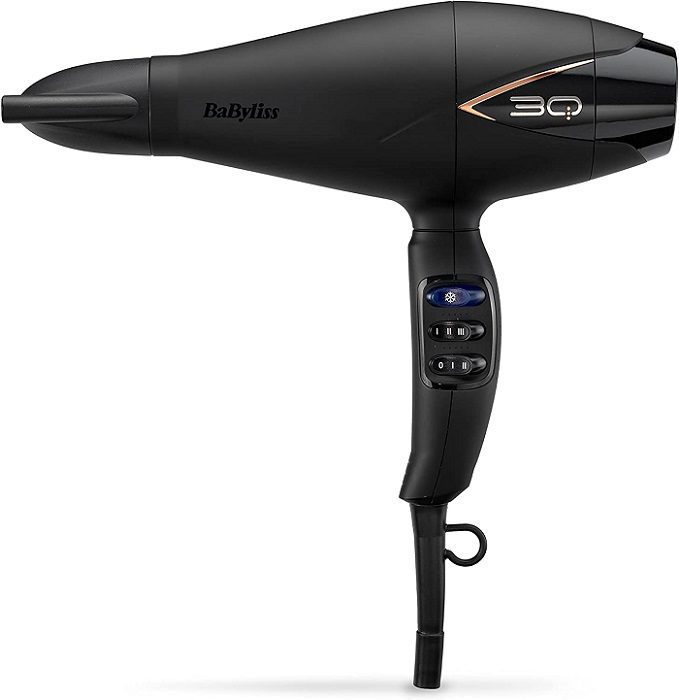 40% Higher air pressure than traditional hair dryers 

Suitable for thick hair 

3 heat settings and 2 speeds 

Intelligent digital motor 

Uses supersonic technology 

Lockable cold shot 

10 years motor warranty 
What is included? 
The Babyliss 3Q Hair Dryer Model 

One Ultra Slim concentrator nozzle 

The user manual. 
This Professional Babyliss hair dryer is amazing. No wonder it is the best seller from Babyliss new collection. It gives the ultimate smooth, and shiny hair look in minutes. With six combinations of adjustments, it is easy to use Babyliss 3Q hair dryer for all hair types, including thick and long hair. It has a powerful 2200W, and it is 20% faster than traditional hair dryers. The 40% higher air pressure allows you to dry your hair more quickly. Besides, it is 28 times more ionic than cheaper Babyliss hair dryers. 
How to Use Babyliss 3Q Hair Dryer? 
Brush your hair to remove any tangles or knots. 

Attach the concentrator nozzle to the Babyliss Hair dryer 

Plug the appliance on. Choose the desired speed and heat settings using the buttons located on the handle. 

Hold the Babyliss 3Q hair dryer 6-8 inches away from the hair allowing the air to flow towards the direction you need. 

Once you blow dry your hair, turn off the appliance and unplug it from the power source. 

Clean the hair dryer and let it cool before storing it. 
What is 3Q hair dryer? 
3Q Hair Dryer is the most advanced hair dryer from the Babyliss collection. It features the latest technology: a digital motor that heats quickly has high-speed airflow and dries hair quickly. It is very safe on hair, and it reduces frizz by removing static. Buyers found the 3Q hair dryer quieter than previous ones. It also has amazing quality, very powerful and efficient on all hair types. You can now enjoy salon-quality blow drying at home using this amazing appliance. 
Babyliss 3Q Hair Dryer Reviews 
"My wife loves it; She wishes she had it sooner!" Original Review in the United Kingdom – on 10 January 2023
Purchased as a gift for my wife. She finds this hairdryer powerful and drys her hair in half the time it used to take, with "almost salon outcomes". A wise purchase.
"Amazing Product!" Andrew – Original Review in the United Kingdom – on 30 December 2022
I'm really happy with this hair dryer. The airflow is consistent and precise like GHDs Hair Dryers. 
"This product has premium quality, highly recommended" Ang – Original Review in the United Kingdom – 18 February 2020 
After using cheap hair dryers for years, I decided to invest in a high-quality one. I purchased a £25 dryer, but it felt cheap, and the cable was the thin flat hard plastic variety that twists readily, so I returned it. At first, I thought of buying GHD or Cloud Nine but paying £100+ for a one-year warranty turned me off.
I saw this Babyliss Professional drier on sale for about half the price of those salon dryers and decided to give it a try. You can tell it's a higher-grade product as soon as you see the outer packaging. This is not a flimsy cardboard box; rather, it is an open book-style box with a sleeve over the top. The motor actually sounds like a more expensive higher quality motor, which it is because it is digital as well as being the better AC variety, and the switches for the three heat and speed settings click nicely.
Conclusion 
Babyliss 3Q hair dryer is one of the best hair dryers on the market according to experts and customers' reviews. It has a rating of 4.7 out of 5, according to 1,179 Buyers. It is not a cheap hair dryer, but it has good value. Besides it dries hair very quickly and has lightweight. I also liked that this hair dryer is quieter than cheaper ones. It is not silent but much quieter than the previous models. If you want to invest in a high-quality hair dryer which has premium quality, I suggest the Babyliss 3Q hair dryer for sure. 
Hello! This is Dr Esraa Sheta, Beauty Editor and SEO Expert. I have been creating product reviews for over 7 years now. All the product reviews for Babyliss appliances are unbiased. I carefully select the products and rigorously test them to ensure that the reviews are truthful and beneficial to customers. I'm confident that you will discover numerous tips and tricks to help you maintain your hair's silky smoothness and shine like never before!