Babyliss Elegance 235 Straightener: Features, pros and cons. High-performance straightener with Advanced Ceramics technology and luxury design. 
Getting your hair to look sleek and straight is a bit difficult for many women. Babyliss Elegance 235 straightener is an amazing tool to straighten your hair strips without causing heat damage or breakage. Traditional straighteners might cause damage and even make your hair look dry and fizzy. Read our full review of Babyliss Elegance the top-selling hair straightener for this year. 
Babyliss Elegance 235 Straightener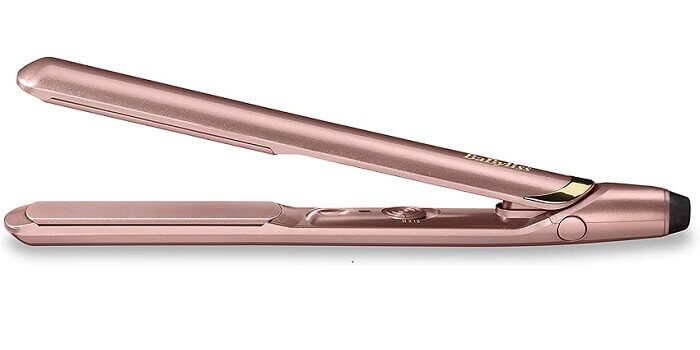 Features 
Brand

BaByliss

Material

Ceramic

Item weight

0.49

Grams

Max temperature setting

235

Degrees Celsius

Heater surface material

Ceramic
Pros
Up to 235C salon performance

Ceramic plates glide 

Advanced Ceramics technology

28mm Ceramic plates 

The straightener is ready to use in 15 seconds

3 heat settings: 180C, 200C & 235C 

Suitable for travel 

Comes with gorgeous salon heat wrap

3m cord length
Cons 
It doesn't have a swivel cord
I loved everything about Babyliss Elegance 235 straightener. It is very easy to use and fast. The Babyliss straightener uses Advanced Ceramics technology for super-fast heat-up and equal heat distribution thorough straightening your hair for a smooth and sleek hairstyle. It doesn't cause breakage thanks to the flawless glide on the hair strands. It is a fantastic product in a great device. this straightener gives the same look as expensive hair straighteners! That's why I find it a great investment every woman should buy. 
What is Included? 
The BaByliss Elegance 235 Rose Gold Straightener

1 x Salon Heat Wrap

1 x user manual
Is Babyliss Elegance 235 Worth It? 
I find this stylish hair straightener totally worth the money. It has many amazing features which include: 
Floating ceramic plates

– it is very smooth on the hair strands. 

Elegant design

– you can use it for creating straight and curly hairstyles. 

Suitable for travel

– it comes with multi-voltage which is suitable for worldwide use. 

Constant heat distribution

– the plates maintain high heat for professional performance and even heat distribution. You can make your favourite hair look in no time at home. 

Heats up quickly

– Ready to use in 15 Seconds

3 Heat settings

– 180°C to 235°C which make the Babyliss Elegance straighter suitable for all hair types. You can use it on thin, moderate and thick hair thanks to the heat protection system. 
Design & Build 
The rose gold colour of the Babyliss Elegance 235 straightener looks classy and subtle. The measures of the plate are 10×2.5 cm. Babyliss plates are curved from the tip so you can use it for curly and straight hair looks. It is suitable for medium and long person's hair. Although it doesn't come with a swivel cord, the wire is 3m long so you can straighten your full hair by yourself easily.
Check other hair straightening products: 
Video Tutorial of Babyliss Elegance Rose Gold 
Babyliss Elegance 235 Reviews 
"I'm so happy that Babyliss Elegance straightener comes with a heat mate, so I can leave it on the mat during hair straightening without fear of burning things at home! It leaves my hair with an amazing shine and it takes only 15 seconds to heat up which is great. 
"Great device for only £40. I don't need to get GHDs or Dyson when I can get the same quality at a cheaper price. I love everything about this Straightener and I use it daily before work to keep my hair sleek, shiny and healthy. 
"Absolutely fantastic product. No more fizzy hair! I recommend this straighter for people who have thick afro hair like me. It makes my hair straight and shiny with half time compared to my previous hair straightener." I divided my hair into smaller sections and started from the back to the front. the results are amazing! I love my sleek hair look. Besides, Babyliss Elegance heats up in only 15 seconds. I recommend applying heat protector products to your hair before use, I literally can't recommend this straighter enough!
"Lovely shine hair looks for a very affordable price which is hard to beat,"

Adam said. 
He bought Babyliss straightener for his girlfriend and she found it perfect for travel and on the go. The straightener is lightweight and suitable for thick coarse hair. 
"I had GHD before but every time I go outside my hair goes fizzy. That's why I decided to try Babyliss straighter and the results are stunning. Now, I don't use a hair straightening too much like before to keep my hair natural looking. I think this device is the best hair straightener I have had! I can straighten my hair in less than 15 minutes. My hair is thick and long. now, I can go out in the raid and my hair doesn't frizz. no need to redo my hair multiple times every day thanks to the amazing straightener. 
FAQs
How wide are the plates of the Babyliss 235 Elegance Straightener?
They are about 1 to 1&1/2 inches wide
Are Babyliss Straighteners Good? 
I find the new Babyliss straighteners perfect for hairstyling at home. They come with 3-10 heat settings and they heat up in only 15-30 seconds. You can use Babyliss straighteners daily without causing heat damage thanks to the protective coat covering the straightener plate. Besides, it is great value for money giving you the same results of luxurious hair straighteners at lower prices. Most of them are ideal for all hair types from thin to thick hair. 
How Long Do Babyliss Straightener Last? 
Every woman should replace her hair straightener every 2-3 years. However, the Babyliss professional straighteners last up to 5 years which helps to store yours in a heatproof zip-up case for maximum use.
Check other hair straightening products: 
Conclusion 
Babyliss Elegance 235 is one of the best hair straighteners according to customers' and experts' reviews. The price is budget-friendly and totally worth the money. I hope my Babyliss 235 straightener review was helpful to you. You can use it daily or even use it multiple times a day and it won't damage your hair as it uses advanced ceramics technology that allows constant heat distribution.
Hello! This is Dr Esraa Sheta, Beauty Editor and SEO Expert. I have been creating product reviews for over 7 years now. All the product reviews for Babyliss appliances are unbiased. I carefully select the products and rigorously test them to ensure that the reviews are truthful and beneficial to customers. I'm confident that you will discover numerous tips and tricks to help you maintain your hair's silky smoothness and shine like never before!