The BaByliss 9000 Cordless Hair Straightener is ideal for on-the-go hair styling. Find out more about its features and the best deal, £108 Off!
BaByliss 9000 Cordless Hair Straightener is the latest release from BaByliss hair straighteners. What's new about this hair straightener is that it works cordlessly. It is ideal for quick hair fixes outside the home as it is lightweight and easily fits in your handbag. Style your hair on the go using this amazing BaByliss Pro 9000 cordless hair straightener. 
I have never tried a cordless straightener before. This is my first cordless straightener. I love the packaging of BaByliss 9000. It is very nice, and even the box feels good quality. The straightener comes with a travel case to carry with you outside and on your travel. 
BaByliss 9000 Cordless Hair Straightener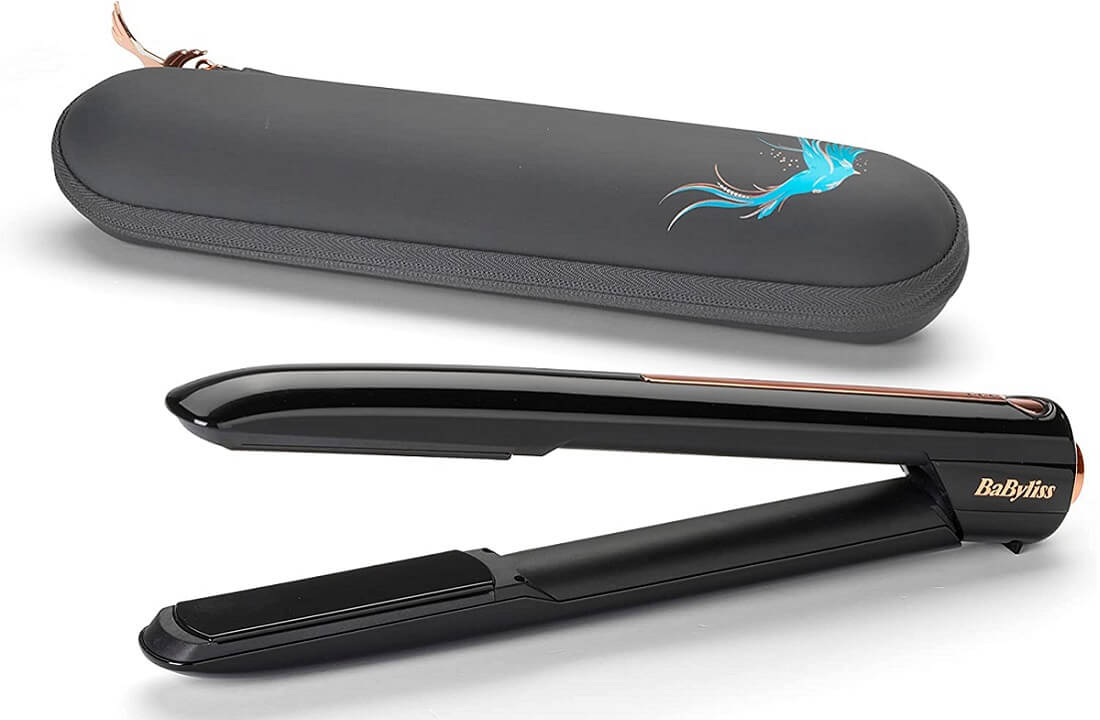 Cordless design

– it gives you complete flexibility allowing you to style your hair anywhere without being tethered to the outlet. 

Mico heating matrix technology

– for precise and perfect heat across the plates 

Intelligent battery

– magnetic charging 

Heats up in seconds

– no need to wait before hair straightening.

Can be used to

curl and straighten your hair 
3 Temperature settings

– 160°C, 180°C and 200°C

Powered by Lithium-ion

for sustained power performance

Dimensions

– 40L x 3W cm Floating plates 

Works for 30 minutes

and charges to full in 3 hours. 

Silicone plate guard

– for safe heat up and storage

Dual Voltage 
Auto Shut off 
FAQs 
How do you use a BaByliss 9000?
To turn on the BaByliss 9000 straightener press the power button. Hold the button until you hear a voice means that the BaByliss is turned on. 

Press the power button again to switch to a higher temperature. It comes with 3 heat settings: 160°C, 180°C and 200°C.

You can start with the lowest temperature and then switch to a higher temperature if needed. 

Divide your hair into sections to make it easier to style. 

Put the first hair section between the plates and start gliding the BaByliss hair straightener down the length of your hair. Repeat this process on all sections of your hair. 

Style as desired: Use the BaByliss 9000 straightener to create any desired styles or curls.

After using, turn off the hair straightener and place it back in the charging dock.
Note: make sure that the BaByliss hair straightener is fully charged before using it. It will light green if it is charged. 
How long does it take to charge a BaByliss 9000?
It depends on whether the battery is empty or not. Lithium-ion batteries have a unique way of charging: they charge faster when the battery is empty and more slowly when the battery is almost full. "A three-hour charge will give you about 30 minutes of use, and a five-hour charge will give you a full battery charge," it says in the instruction booklet. Therefore:
When the batteries are dead, a 3-hour charge will give you about 80% to 85% charge.

When the batteries are getting close to being fully charged, another 2 hours of charging will give them about 85% to 100% charge.
Can I use BaByliss 9000 Hair Straightener while charging? 
No, you can't use the 9000 cordless straighteners while charging. It is designed for freedom from power cords. You will have to wait until it is charged to use it. You can charge your BaByliss straightener before styling your hair to save time. 
BaByliss 9000 Cordless Hair Straightener Reviews 
"Excellent Product" Mint – Original Review in the United Kingdom on 23 January 2023
Superb product. The fact that it doesn't have a cord makes it very convenient. I've mostly used the lowest heat setting because I don't ever straighten my hair pin drop. My hair is very wild and has a lot of waves. At the lowest heat setting and with two or three passes, I get a natural straight look. My hair is about shoulder-length and not too thick. I need about 20 minutes to do it. I can straighten at least twice on a single charge, which is great. Love the box and the bag to carry it. The same goes for (compared to Dyson Corrale..although in every other aspect besides price Dyson would be clearly better ). Would definitely recommend at the sale price of €70. Still don't think it's worth the original price, which was €200.
"Brilliant" Fanta – Original Review in the United Kingdom on 7 January 2023
The only thing I don't like about the straightener is that you only get 30 minutes, and sometimes not even that long, which is very disappointing. Charges for hours. I like that it doesn't have a cord, but it should take longer to heat up. Lovely though that is, it's a shame.
Conclusion
BaByliss 9000 Hair Straightener is handy as it works cordless! It comes with 3 heat settings for all hair types. You can easily use it to create the wavy and curly look, not just hair straightening. I have medium-length thick hair. It takes me around 25 minutes to complete. It charges in 3 hours and works for 30 minutes. I highly recommend getting in during the sale as it is the price is totally worth it. Check also BaByliss Hair Straighteners for the latest BaByliss models released. 
Hello! This is Dr Esraa Sheta, Beauty Editor and SEO Expert. I have been creating product reviews for over 7 years now. All the product reviews for Babyliss appliances are unbiased. I carefully select the products and rigorously test them to ensure that the reviews are truthful and beneficial to customers. I'm confident that you will discover numerous tips and tricks to help you maintain your hair's silky smoothness and shine like never before!