Babyliss Pro 800w Rotating Hot Air Styler is one of the best hair styling tools to create a curly look. Find out more about its pros, cons, how to use and tips to help you style your hair like professionals.
Recently, I was so encouraged to try curly hair looks. That's why I bought the Babyliss Pro airbrush to give it a try. I will tell you in this review everything you should know before you decide to buy it or not.
Rotating brush is an amazing choice if you are willing to get salon-quality hairstyles at home. It dries your hair very fast and you won't need to use any other hair styling tools.
Babyliss Pro 800w Rotating Hot Air Styler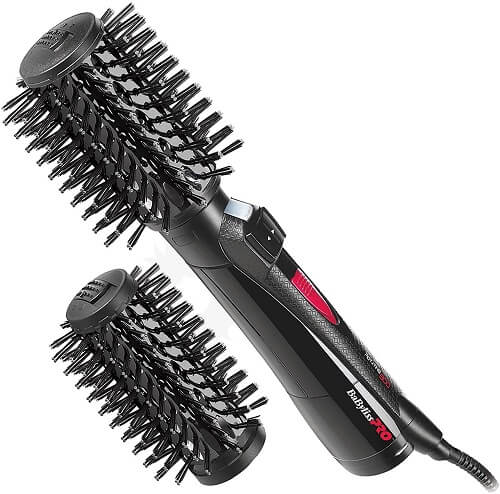 Check Price on Amazon UK
BaByliss Pro 102627 Rotating Brush 800W From France
Buy Babyliss Roterende Borstel From Geramany 
Buy Babyliss Brush From USA
Pros
800-watt power
Comes with 2 attachments: 40 mm & 50 mm brushes
Has 2 temperature settings
Has a cool air level for touch-ups
Two-way rotation (right & left)
Ionic technology which makes your hair shiny
Too long cord (2.7 m)
very easy to use the rotating brush
Cons
Not suitable for too thin hair
Tip: if you want to create a volume using Babyliss Pro 800w rotating hot air styler, I recommend brushing your hair with the Babyliss styler upward to create more volume.
Babyliss Pro Rotating 800 Attachments
The hot air brush comes with 2 brushes:
Slip the hot air styler brush of the unit and lock it using the lock button on the top of the Babyliss brush to attach it. You can easily de-attache it by unlocking the button and gently pulling the rotating brush off.
Babyliss Pro 800w Rotating Hot Air Styler Review
It is the second time I try Babyliss hot rotating brush. I'm very satisfied with my experience. It is lights and easier to use compared to the previous model. And the results are just great. You can use a large brush (50 mm) to make beautiful large curls and waves. It is really easy to get used to it. Once you use the Babyliss pro 800w rotating hot air styler once or twice, it will be easy to use. After you use the rotating brush, you should clean it and remove any trapped hairs. Otherwise, the rotation won't be very effective.  However, The downside for the Babyliss Air styler brush that it may be not the best option for too shin hair. As the lowest level is a bit high and might harm your hair. 
How do you use the Babyliss rotating curling brush?
Using Babyliss Pro 800w rotating hot air styler is very easy! Follow these steps to get amazing results:
Separate your hair into sections. The best way to do so is by pulling the front area of your hair together. Then section the sides separately and the back of your head too.

Apply a heat protectant before using the hot air styler.

Plugin the Babyliss 800 rotating brush.

The big 2 buttons are for on and off. While the buttons on the sides are for the direction of hairstyling. You use the side buttons to choose which way the brush rolls.

Choose the hair section you want to dry first.

Start from the roots of the hairs while clicking the right-hand button while rotating the right side. This will allow you to rotate the hairs down.

After finishing the roots of the section, roll the hairs around the Babyliss hot air styler while pressing the right button. Keep brushing the hairs until you get the desired results. You can also hold the hairs in the rotating brush for seconds to make a twirl.

Continue styling the rest of your hair in the same way.
Tip: make sure you choose a small section of your hair to brush. Basically, the smaller the hair section is, the better results you will get. Brushing a big section might cause tangles.
Tips For Using Babyliss 800w Pro Rotating Hot Air Styler
Make sure you dry your hair well before using the Babyliss hot airbrush

Wash your hair properly with water and shampoo to remove any oils and hair products before styling your hair with heat. This way you will ensure that your hair is completely tangle-free and shiny after curling it.

Separating your hair into sections will make curling your hair much faster. Each hair section should be at least 2 cm wide and less wide than the rotating brush. Try to make the hair sections as even as possible to get the perfect wavy hair look.

You might need to brush your hair more than once to get perfectly straight hair. Repeat brushing your hair with Babyliss rotating airbrush as much as necessary depending on your hair type.

You shouldn't use the cool air at first as it should be used for setting the hairstyle. However, it is the best way to use the cool air after styling your hair to make the hair curls last longer.

Most people like to blow dry their hair down. You can use the blow drying outwards for some hair sections to create volume.
FAQs
Can you use Babyliss hot brush on wet hair?
Babyliss hot brush can be used to dry your hair if it is wet. However, I don't recommend using high heat on your hair while it is still wet to minimize hair damage. You should at least dry your hair using a microfiber towel or a cotton t-shirt. After that, use the low heat temperature of the Babyliss hot brush to dry your hair. Once your hair is completely dry, you can use higher energy levels to straighten your hair strands.
Check Price on Amazon UK
BaByliss Pro 102627 Rotating Brush 800W en France
Conclusion 
BaByliss Pro 102627 Rotating Brush 800W is one of the best-rotating brushes on the market. It comes with 2 attachments. One is 40 mm, and the other is 50 mm to help you create many hairstyles at home. It is very hot and you can use the lowest energy setting to achieve amazing results in no time! It is one of the easiest hot airbrushes. You can also check Babyliss Hydro Fusion Air Styler Review. Another great hot brush for blow-drying your hair.
I hope you found helpful information about Babyliss hot brushes in this article. Have you tried Babyliss rotating brush before? And did you like it? Tell me in the comments below..
Check also: Babyliss Gas Refills
Hello! This is Dr Esraa Sheta, Beauty Editor and SEO Expert. I have been creating product reviews for over 7 years now. All the product reviews for Babyliss appliances are unbiased. I carefully select the products and rigorously test them to ensure that the reviews are truthful and beneficial to customers. I'm confident that you will discover numerous tips and tricks to help you maintain your hair's silky smoothness and shine like never before!