BaByliss Elegance 2100 Hair Dryer features, pros and cons. Is it worth buying? And who should use it? Reviewing the new BaByliss dryer.
Using a hairdryer saves time. If you are running late for going to a party or even going to work and you just have taken a shower, what will you do? You won't have time to air dry your hair naturally. It really bothers especially in winter. BaByliss Elegance is super fast and you can use it daily to blow dry your hair. 
The new BaByliss Elegance hair dryer is very gorgeous. I love the rose gold colour. It gave me an excellent first impression of the product. Technically speaking, It uses Advanced Airflow Technology, which is faster than regular hair dryers. Let's discuss BaByliss Elegance's unique features. 
BaByliss

Elegance 2100 Hair Dryer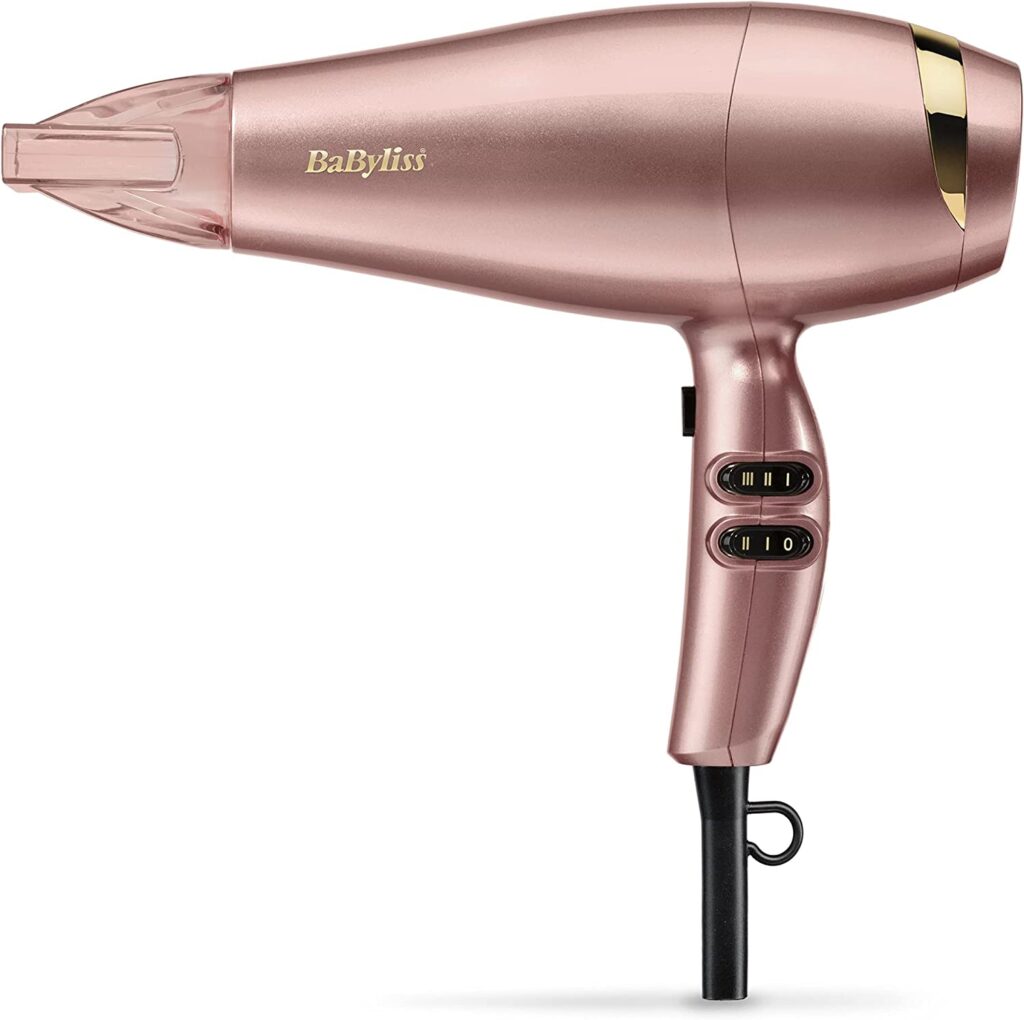 Free Shipping 
3 heat/2-speed settings 

Cool shot button

Uses Advanced Airflow Technology

Lightweight (only 0.597 g) 

Super frizz-controlling ionic conditioners to boost shine

Long swivel cord (2.2m)

Heat Balancing ceramic technology for smoothing whilst drying

Has a super DC motor 

Comes with a UK plug 

Suitable for travel 
Rating 5 out of 5 
BaByliss Elegance 2100 Hair Dryer is very powerful and it is suitable for all hair types including short hair, long hair, curly and coarse hair. It will give you the sleek glossy hair you want. I liked that the hair dryer is lightweight which is very comfy and it makes it suitable for travel. The Advanced airflow technology is great for Ulta-quick hair drying even if you are using the BaByliss Elegance hair dryer to dry thick and long hair. I give it 5 out of 5 as it has everything I need for a blow out my hair at home. Besides the very beautiful pink colour and the design. It is hard to find such great quality at a low price. It's for sure worth buying. 
What is Included?
The BaByliss Elegance 2100 Hair dryer

A slim concentrator nozzle

The user manual
BaByliss

Elegance 2100 Hair Dryer Reviews
"Really good product at low cost" Jess – The United Kingdom
She was a bit worried if she would like it or not as the price is quite cheap compared to other hairdryers. It is a perfect comfy hair dryer. It is quite compared to other dryers. She is very pleased with the product. The design is very cute and the colour fantastic. 
"Smooth shiny hair" Louise – The United Kingdom  
Her previous hair dryer from BaByliss lasted for ten years. That's why she decided to go with the same brand again and she doesn't regret it. She has coarse thick hair but this blow dryer makes her hair shiny, sleek and easy to style. It has many heat and speed settings. She uses medium heat and speed for hair type. The design of the BaByliss Elegance 2100 hair dryer is also great and very light with a 2.2m cord. The only possible criticism is she holds the dryer where the buttons are so could accidentally flick them by mistake. Otherwise all it is good and highly recommended.
"Excellent Product" Emma – The United Kingdom  
She is very impressed with this new blow dryer. It is very powerful and gets hot fast. Great settings and you can adjust them while using the hair dryer easily. This product is lightweight and suitable for travel. And of course, the pink design is always the best. Very beautiful hairdryer. 
Check Also Other BaByliss Hair Dryers:
Conclusion 
I think using a hair dryer at home is essential, especially in winter. It is hard to go out with wet hair after taking a shower. Imagine the weather with a cold breeze and snowfall. Who can take the risk of having wet hair in winter? The hair dryer is essential as it helps save money and keep your hair healthy. 
The Babyliss Elegance 2100 hair dryer will dry your hair within a few minutes. It has a 2100W motor for high-performance results. It also minimizes frizz as it uses heat-balancing ceramic technology for smoothing whilst drying. With 3 heat/ 2 speed, a cool shot and easy to handle I think it is the best hair dryer at a low price. 
Hello! This is Dr Esraa Sheta, Beauty Editor and SEO Expert. I have been creating product reviews for over 7 years now. All the product reviews for Babyliss appliances are unbiased. I carefully select the products and rigorously test them to ensure that the reviews are truthful and beneficial to customers. I'm confident that you will discover numerous tips and tricks to help you maintain your hair's silky smoothness and shine like never before!